Bud & Alley's Pizza Bar + Trattoria
Join Us on Facebook | Join Us on Twitter | Join Us on Instagram
Located in the iconic beach town of Seaside, Florida, Bud & Alley's Pizza Bar + Trattoria is a locally inspired pizzeria serving authentic Neapolitan wood-fired pizza and housemade dishes. Our passion is rooted in traditional cooking technique–from the mixing of the dough to the shaping of each pizza to maintaining the proper flame in our wood-fired oven. Everything at Pizza Bar is made by hand, including our fresh mozzarella and naturally leavened sourdough baked daily for our seasonal bruschetta. Our menu is complemented by a carefully curated list of handcrafted cocktails, wine and craft beer. We strive daily to create a menu that celebrates where we live, offering the best from both land and sea.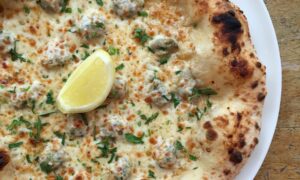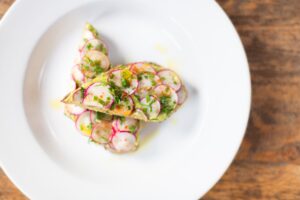 Location & Hours
Bud & Alley's Pizza Bar + Trattoria is totally refreshed and roadside at Bud & Alley's on 2236 East County Road 30-A, Seaside, Florida 32459
Holiday Hours: Closed Thanksgiving Day & Christmas Day
Private Events
Contact us today at (850) 231-5900 or fill out our contact form for more information.
Ordering
» Order Online | » Sign Up for Rewards Program | » Gift Cards
Pizza Bar + Trattoria Food Menu
Appetizers

Wood Fired Dough

Olive Oil, Garlic, Rosemary, Marinara

Meatballs

Grassfed Beef & Berkshire Pork, Marinara, Chili, Parmesan, Honey

Fried Brussels Sprouts

Hazelnuts, Chili Flakes, Honey, Sherry Vinaigrette

Grilled Gulf Shrimp

Fresh Herbs, Breadcrumbs
Make it spicy - add Calabrians!

Wood Fired Olives

Castelvetrano, Cerignola, Nicoise

Gulf Mahi Strips

House Tartar, Charred Lemon

White Bean Soup

Kale, Bread Crumbs, Parmesan
Add Sausage +5
Add Clams +8

Fritto Misto

Zucchini, Squash, Fennel, Shrimp, Charred Lemon, Zesty Tartar

Avocado Toast

Radish, Lemon, Parsley, Chili Flakes

Salads

Add Grilled Chicken +8 | Add Grilled Shrimp +10

Mixed Greens

Heirloom Cherry Tomato, Red Onion, Radish, Parmesan, House Vinaigrette

All Kale Caesar

Lemon Zest, Heirloom Cherry Tomato, Bread Crumbs, Parmesan
Add Grilled Chicken Breast +8
Add Grilled Shrimp +10
*caesar dressing contains raw egg

Pasta

Add 3 Meatballs +9 | Add Grilled Chicken +8 | Add Grilled Shrimp +10

Pasta Alla Vodka

Garlic, Parmesan, Chili, Oregano
Add Grilled Shrimp +10
Add Grilled Chicken Breast +8
Add 3 Meatballs +9

Pesto Penne

Hazelnuts, Parmesan, Basil

Kid's Pasta

Butter or Marinara, with Parmesan

Sandwiches

(Lunch Only)

Soppressata & Fontina

Grilled Peperonata, Arugula, House made dough

Caprese

Heirloom Tomato, Fresh Mozzarella, Torn Basil

Grass Fed Beef Meatball

Tomato Gravy, Basil, Honey, Chili, House Mozzarella

Wood Fired Pizza

(Pizzas Are Approximately 11 inches & 4 Slices)

Each Additional Topping:

Meat +5
Pepperoni, Sausage, Pancetta, Prosciutto, Salami, Anchovies

Vegetable +3
Mushroom, Olives, Basil, Arugula, Bell Peppers, Broccolini, Pickled Onion, Raw Onion, Pickled Jalapeños

Cheese +4
Goat Cheese, Fontina, Mozzarella, Vegan Cheese

Substitute Gluten-Free Dough (when available) +3
Side of Ranch Dressing +2.50
*Consuming Raw or Undercooked Meats, Poultry, Seafood, Shellfish, or Eggs May Increase the Risk of Food Borne Illness

Red Pies

Phil's Pie

Basil, Garlic, Calabrian Chilis, Broccolini, House Mozzarella, Olive Oil

Marinara

Garlic, Oregano, Basil, Olive Oil (No Cheese)

San Marzano

Garlic, Arugula, Pecorino, Olive Oil

Margherita

Basil, Fresh Mozzarella, Olive Oil

Margherita & Salami

Felino Salami, Honey, Chili Flakes, Fresh Mozzarella, Basil

BBQ Chicken

Caroline BBQ, Peaches, Jalapeño, Onion, Grilled Chicken, Fontina

The Vegan

Violife Cheese, Broccolini, Red Onion, Kalamata Olives

Chupacabra

Spicy Goat Salami, Assorted Peppers, Goat Cheese, Chives

Sausage

House Fennel Sausage, Fresh Mozzarella, Fresh Herbs

Jalapeño & Pepperoni

Garlic, Pepperoni, Pickled Jalapeño, Fresh Mozzarella, Green Onion

Prosciutto Di Parma

Prosciutto, Arugula, Fresh Mozzarella

Tre Carne

Pepperoni, Sausage, Pancetta, Fresh Mozzarella

Pepperoni

Pepperoni, Oregano, Shredded Mozzarella

White Pies

Funghi

Wild Mushrooms, Pecorino, Thyme, Fresh Mozzarella, Chili Oil

Clam Pie

Cedar Key Clams, Parmesan, Chili Flakes, Fresh Mozzarella

Four Cheese

Fresh Mozzarella, Fontina, Parmesan, Gorgonzola, Pickled Red Onion

The Egg

Sunny Farm Egg, Fontina, Roasted Fennel Sausage, Basil, Calabrian Chili
*may contain undercooked egg
Pizza Bar + Trattoria Drink Menu
*Drink Menu Subject To Change Often*

Craft Cocktails

"Rey Sol" Blood Orange Margarita

Rey Sol 6yr anejo, solerno blood orange, lime juice, agave, and a slice of blood orange

Blantons Old Fashioned

Blanton's, Angostura bitters, simple syrup, with muddled orange and cherry

B&A Coconut Mojito

Parrot bay coconut rum, lime juice, reál coconut puree, splash of sour, topped with soda

Pineapple-Jalapeño Margarita

Herradura silver, pineapple, line juice, agave nectar, jalapeño and soda

Smoked Paloma

Corazòn, Campari, grapefruit, lemon, and lime juice, simple syrup, Italian orange soda, and a pinch of salt

Aperol Spritz

Aperol, prosecco, soda and an orange slice

Espresso Martini

Grind Espresso Rum, Van Gogh Vanilla Vodka, and Freshly brewed coffee

Italian Blood Orange Vodka Soda

Vodka, Italian Orange Soda, mint, and blood orange

Frozen Peach Bellini

Lamarca Prosecco with Reál peach puree topped with an edible orchid

Laid Back

Tinkerman's gin, grapefruit and lime juice, simple syrup and Peyschauds bitters

Frozen of the Day

Enjoy today's special fresh frozen cocktail!

Add a Floater to Any Drink!

Beer

Ask about seasonal drafts!

Idyll Hounds Ghost Crab Pilsna

Idyll Hounds Divide and Conch'r IPA

Sparkling

Prosecco

Lamarca/Veneto;
Lively Bubbles, Brut DOC

Rose

Rosé

Miraval/Provence, France;
Fresh Fruit, Currants, Rose

White

Pinot Grigio

Maso Canali/Trentino, Italy;
Well-balanced, Persistent Finish

Chardonnay

J Vineyards/California;
Well-balanced, Silky Smooth

Sauvignon Blanc

Mohua/Marlborough;
Crisp and refreshing

Soave

Pieropan/Veneto;
Vibrant acidity, Dry and Fresh

Red

Barbera D'Asti

Ratti Battaglione/Piedmont, Italy;
Full Flavor with long persistence

Cabernet Sauvignon

Juggernaut/California;
Full Bodied, Fruit Forward

Pinot Noir

Jermann Red Angel Pinot Nero/Friuli;
Medium Bodied, Elegant

Cabernet Sauvignon

"Orin Swift" Palermo/Napa;
Bold and Jammy, Fruit Forward
Bud & Alley's Restaurant

2236 East County Road 30-A
Seaside, Florida

Mailing Address:
P.O. Box 4760 - Seaside Branch
Santa Rosa Beach
FL, 32459